MOKALENG SCHOOL FIELD TRIP: SCHOOL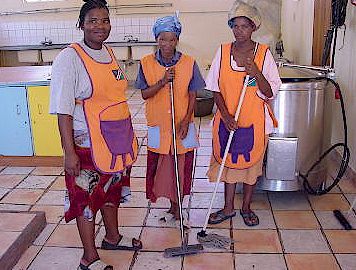 Here are our two hostel mothers and a kitchen worker, and here are our two hostel fathers. The hostel parents are responsible for running the hostels and taking care of the students that live in them.
Move the arrow over the photo to see
another one; then click it to continue.
TOUR STAFF HISTORY MAPS SCHEDULE
SCHOOL SCHOOL ACTIVITIES

KALAHARI DESERT CULTURE

NOTE: The site's text and background colors represent the
different colors of the Kalahari Desert sands.

CHOOSE A LINK BELOW TO HEAR A MULTI-LINGUAL
WELCOME OR TO SEE OUR ARTWORK
© 2007 OneWorld Classrooms. All rights reserved.