SCHOOL FIELD TRIPS: Mokaleng R.C. Combined School
Aminuis, Namibia -- Kalahari Desert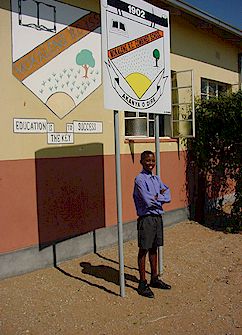 Welcome to Mokaleng Roman Catholic Combined School in Aminuis, Namibia! Our school is located in the Kalahari Desert near the Botswana border in the eastern part of our country. We are a multi-lingual boarding school with 540 students in grades one through ten. Please choose a category below to begin your tour. Thanks for visiting!
SCHOOL SCHOOL ACTIVITIES

KALAHARI DESERT CULTURE
NOTE: The site's text and background colors represent the different colors of the Kalahari Desert sands.
CHOOSE A LINK BELOW TO HEAR A MULTI-LINGUAL WELCOME OR TO SEE OUR ARTWORK



© 2007 OneWorld Classrooms. All rights reserved.