MOKALENG SCHOOL FIELD TRIP: SCHOOL HISTORY
TOUR STAFF MAPS SCHEDULE SITE INDEX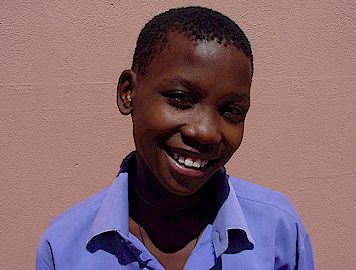 Here's a historical timeline for our school:
c. 1900 -- A priest from South Africa visits Aminuis and tells the people they should go to Windhoek to request a permanent priest for the community.
1902 -- Community members travel six weeks by oxcart (with 12 oxen) to Windhoek to fetch a priest. (The trip takes five hours by car today). The community builds a traditional house for the priest and he starts to hold classes in his house. The house also serves as a church and an office.
c. 1920 -- The school has a real classroom and about 60 students. The students mostly come from Huqus and Tuqus, villages about seven kilometers away.
1940 -- Catholic sisters are appointed to serve at the school.
1964 -- Mokaleng School, like most schools in Namibia, only goes up to fourth grade.
1966 -- The schools first hostel is built, housing 120 students. The hostel has a sand floor.
1968 -- Three more sisters join the school, including Sister Juta who is still working here.
1975 -- A well, 90 meters deep, is drilled. The water is pumped using a diesel pump.
1975 -- The hostel kitchen and dining hall are built. Previously, the food was cooked outside on an open fire. Students brought their own plates and cups and ate under a tree.
1978 -- Toilets are built. Previously, students used the field.
1978 -- The hostel kitchen and dining hall burn down. No one is injured.
1968 - 1994 -- Mokaleng has grades one through eight.
1995 -- Permanent electricity arrives from Gobabis. Previously, the school used a generator.
1997 -- Mokaleng goes up to tenth grade.
1994 - present -- School constructs many new buildings.
Currently -- Our school now has over 500 students, four hostel blocks, each with its own washroom, and twenty classrooms. We have fifteen teachers, four hostel parents and several other workers. We also have four Missionary Sisters of the Immaculate Conception, two from Germany and two from Namibia.
Please choose a category below.
TOUR STAFF MAPS SCHEDULE SITE INDEX
SCHOOL SCHOOL ACTIVITIES KALAHARI DESERT CULTURE
NOTE: The site's text and background colors represent the different colors of the Kalahari Desert sands.
CHOOSE A LINK BELOW TO HEAR A MULTI-LINGUAL WELCOME OR TO SEE OUR ARTWORK
© 2007 OneWorld Classrooms. All rights reserved.