The Amazon River Elementary School Web Site
Nivel Seis/Grade Six: Cultura/Culture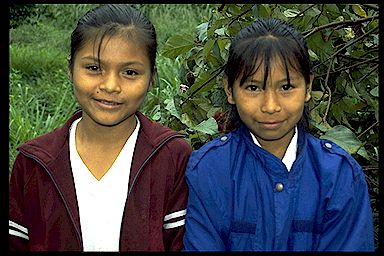 !Hola amigos! Mi nombre es Rubi. Tengo once anos. Mi nombre es Rosana. Tengo diez anos. Estudio en La Escuela Rio Amazonas. Nosotros hablamos en el idioma Quichua. Aqui mi companera va a contar hasta el diez en Quichua: Shuk, ishki, kinsa, chusku, pichka, sukta, canjis, pusak, iskun, chunga. Hello friends! My name is Rubi (left). I am eleven years old. And my name is Rosana (right). I am ten and I learn at the Amazon River Elementary School. We speak the Quichua language. Here my classmate is going to count to ten in Quichua: One, two, three, four, five, six, seven, eight, nine, ten.
Click on one of my classmate's names below to learn more about our culture:
Pancho - La Canoa/The Canoe
Fidel - La Cazaria/Hunting
Vanesa and Tamara - La Pesca/Fishing
Bertila - Chicha/Chicha
Joni - Adivinanzas/Riddles
Go to the Art Gallery to see our artwork.

Choose another classroom/theme below:
© 2007 OneWorld Classrooms. All rights reserved.