THE AMAZON RIVER ELEMENTARY SCHOOL WEB SITE: Home Page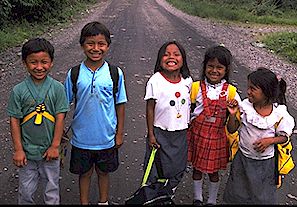 !Bienvenidos! Welcome to the Web site of La Escuela Rio Amazonas, The Amazon River Elementary School (ARES) in Limoncocha, Ecuador. We're on the road to our school. Why don't you join us? We have 124 students, seven teachers and six classrooms (each a separate building). Each class has a theme. Click on a class below and enjoy your visit!

We're bilingual (and our Web site is trilingual)! While visiting, click on the speaker to hear us speaking in Spanish and Quichua.
Check out our POND PAGES!
© 2007 OneWorld Classrooms - All rights reserved. Unless otherwise noted, all photos on this site
were taken by Paul Hurteau and Dennis Pippen. They may be used by teachers for classroom use only.