The Amazon River Elementary School Web Site
Nivel Seis/Grade Six: Cultura/Culture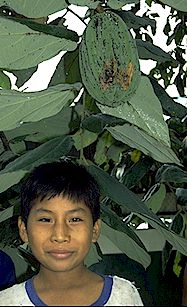 !Hola amigos! Yo me llamo Joni . Yo tengo once anos. En nuestra cultura, practicamos cuentos, adivinanzas y refranes. Aqui se puede escuchar un refran en Kichwa: Cushillu chupata mikushaka, huashama sukirinami -- El que como el rabo de mono, se queda atrasado. Hello friends! My name is Joni. I am eleven years old. In our culture, we have traditional stories, riddles and famous sayings. Here you can hear a Quichua saying: 'He who eats the monkey's tail will always be late.' (Those are ants on the fruit above my head, by the way.)
Click on one of my classmate's names below to learn more about our culture:
Pancho - La Canoa/The Canoe
Fidel - La Cazaria/Hunting
Vanesa and Tamara - La Pesca/Fishing
Rubiela and Rosana - Kichwa/Quichua
Bertila - Chicha/Chicha
Go to the Art Gallery to see our artwork.

Choose another classroom/theme below:
© 2007 OneWorld Classrooms. All rights reserved.