The Amazon River Elementary School Web Site
Nivel Seis/Grade Six: Cultura/Culture

!Hola amigos! Mi nombre es Fidel. Estudio en el nivel sexto. En nuestra cultura practicamos la cazaria con trampa. Hello friends! My name is Fidel. I am in sixth grade. In our culture, we hunt using traps.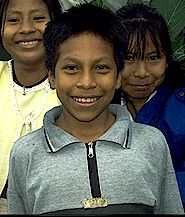 ...............
Click on one of my classmate's names below to learn more about our culture:
Pancho - La Canoa/The Canoe
Vanesa and Tamara - La Pesca/Fishing
Rubiela and Rosana - Kichwa/Quichua
Bertila - Chicha/Chicha
Joni - Adivinanzas/Riddles
Go to the Art Gallery to see our artwork.

Choose another classroom/theme below:
© 2007 OneWorld Classrooms. All rights reserved.