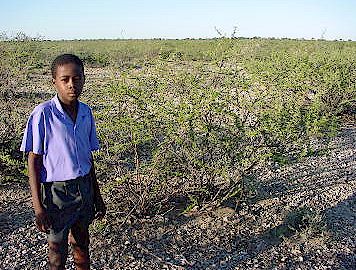 The Kalahari is filled with different colored sands; but it also has lots of plants. Some scientists say it should not even be called a desert since it has so much vegetation. In the first picture, I am standing in front of some thorn bushes and in the second I am standing on the salt pan. Thorn bushes are the main Kalahari plant. They produce a gum that people eat and pods that cows and goats eat. The salt pan is where water collects after heavy rains. It is very large -- about six square kilometers. It only fills with water once every three or four years. Mostly it stays dry. Animals, like goats, cows, horses and donkeys, visit the pan to lick the salt. You can see animal tracks in the photo. People also sometimes get salt from the pan for cooking.
Move the arrow over the photo to see
another one; then click it to continue.
SCHOOL SCHOOL ACTIVITIES

KALAHARI DESERT CULTURE

NOTE: The site's text and background colors represent the
different colors of the Kalahari Desert sands.


CHOOSE A LINK BELOW TO HEAR A MULTI-LINGUAL
WELCOME OR TO SEE OUR ARTWORK
© 2007 OneWorld Classrooms. All rights reserved.