Travel E-Logs: Amazon Rain Forest

Travel E-Logs #1: Introduction to the Project and the Adventure Team
Dear students:

All aboard! Welcome to the Amazon Rain Forest School Project – and greetings from Ecuador, South America! My name is Paul and I'm a teacher. My partners' names are Lilia and Teresa. They are both teachers, too. The three of us will be traveling with your class for the next six weeks to the Amazon Rain Forest! So... ¡Bienvenidos y buen viaje!
Can you find Ecuador on the map? (If you are having trouble, here's a clue: Ecuador means 'equator' in Spanish.) Can you locate the capital city, Quito? Do you see the Andes Mountains? They run up and down the whole west coast of South America. In the north, they tower over the Amazon which begins at their base to the east.
TRAVELING TO THE AMAZON
Of course, you'll be traveling to the Amazon with us from right inside your own classroom, but Lilia, Teresa and I really will visit schools in the rain forest. As we do, we'll send you E-Travel Logs (like this one) about our trip. We've also set up Internet adventures so you can visit the places we visit, see the things we see and meet the students we work with. Some of you will also be exchanging artwork, music, picture books or videos with partner classes in the rain forest. That way, rain forest students will learn about you from what you make and you will learn about them from what they make. You can also ask questions of your partner class and we'll send you the answers. (What would you like to know about the rain forest? What better way to find out the answers than to ask children who live there!)

ABOUT THE E-TRAVEL LOGS
In upcoming travel logs, we'll tell you many things about the places we visit and the people we meet in the Amazon. For now, I'll just fill you in on what the travel logs will contain and then tell a little more about us.
Guess Who Animal Poems

Guess who! I like to write poetry, so I'll also be sending you some guess-who animal poems about mystery rain forest animals in some of the travel logs. (One of my goals for the trip is to stump you with one of my poems. Are you unstumpable?! Well, we'll see about that. Better study up on rain forest animals if you want to be able to guess all the poems.)

Spanish and Indigenous Mother Tongues

Since people speak Spanish in Ecuador, we'll be including some Spanish words and phrases in some of the E-mails we send you. ¿Hablas español? Do you speak Spanish? ¿Estas estudiando español? Are you studying Spanish?
Even if you don't speak Spanish and are not learning it, you probably already know lots of Spanish words. That's because, many Spanish words are similar to English words that mean the same thing. The word similar, for example, is spelled the same in English and Spanish and means the same thing, though the pronunciation is different. The same goes for animal. Other words in Spanish only vary slightly from the English spelling, like insecto or elefante. Others, like fresco, libro, and arbol, are a little trickier to figure out, but have related roots. Still others, like pared and aula, have no apparent connection at all.

So, we'll be including some Spanish words in the E-Travel Logs we send you. Mostly, we'll include Spanish words that are similar to their English counterparts – and we'll challenge you to figure out what they mean in English. So, get your sleuthing caps ready!

Though Spanish is the official language of Ecuador (and most other South American countries with the notable exception of Brazil, where Portuguese is the official language), the indigenous peoples of the Amazon have their own languages, or mother tongues. We will be visiting Quichua (Kichwa), Shuar and Secoya villages in our travels; so we'll also include a few Quichua, Shuar and Secoya greetings and phrases in our E-travel logs.

Flashbacks

I first lived and taught in the Amazon Rain Forest in 1994/95. Since then, I've been back eight times and I've been directing the Amazon Rain Forest School Project for the past five years. So, in this year's travel logs, I'll also be including several flashbacks to previous years.

Photos

We'll also be sending photos with our E-Travel Logs so you can see some of the things we discuss in our reports. For now, we're just sending two photos (see below). The first shows Lilia with a llama in the Andes Mountains. The second shows me near a waterfall called El Pailon del Diablo (The Devil's Pot) on one of the thousands of small Andes Mountain rivers that feeds the Amazon River. We'll send you a photo of Teresa when she joins us.

ABOUT US

Here's a little more information about our traveling team of teachers and how we got to (or will get to) Ecuador...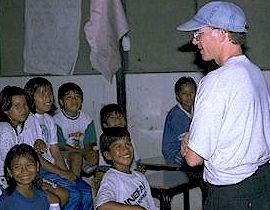 My full name is Paul Hurteau. I'm a teacher from upstate New York (near Canada). I have also lived and taught in Kenya, East Africa and the Ecuadorian Amazon Rain Forest. Over the past five years, I've visited schools in the Canadian Arctic, Namibia (Africa), the Galapagos Islands, the Amazon and China to conduct projects like this one. I can speak Spanish and, over the years, have also learned some Quichua, French, Luo, Swahili and a little Chinese.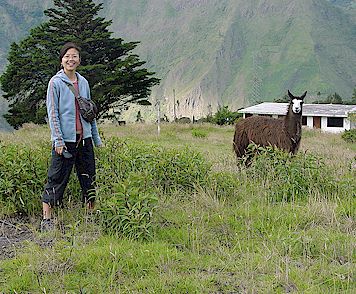 Lilia Cai is an English teacher from Shanghai, China. (Her Chinese name is Cai Li.) Lilia has a degree in International Chinese Studies. She taught English as a WorldTeach volunteer for a half a year in Quito, Ecuador and for another half year in Limoncocha, one of the Amazon villages we'll be visiting during the project. She has worked as the Project Coordinator for OneWorld Classrooms since 2002, coordinating projects in Namibia, the Galapagos Islands, the Amazon and China. She is fluent in Chinese, English and Spanish.
Teresa Acevedo Robinson is the project volunteer. She will be joining us in the Amazon around January 15th. Teresa formerly worked for two years in El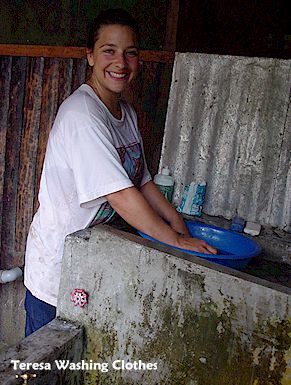 Salvador as a Peace Corps volunteer and has also taught English in a rural Chinese village and worked with street children in San Paolo, Brazil. She speaks English, Spanish and Portuguese fluently.
To get to Ecuador, I flew from New York City to Guayaquil, Ecuador, then to Quito, the capital, high in the Andes Mountains. Lilia flew from Shanghai, China to Amsterdam in the Netherlands, to Bonaire, an island in the Dutch Caribbean, to Guayaquil, to Quito. Teresa will fly from San Paolo, Brazil to Quito. Can you trace our flights and estimate how many total miles the three of us will have flown to get here?
THAT'S ALL FOR NOW
We're really looking forward to exploring the wonders of the rain forest with you – and helping your class to interact with your partner class in the Amazon.

We'll be in touch soon. IFeliz año nuevo!
Paul Hurteau
Project Director
Amazon Rain Forest School Project
=======================================
Teachers:

Visit the Amazon Rain Forest Classroom Package here for related lesson ideas, reading material, fun activities and links to related Web sites.
<><><><><><><><><><><><><><><><><><><><><><><><><><><><><><><><><><><>