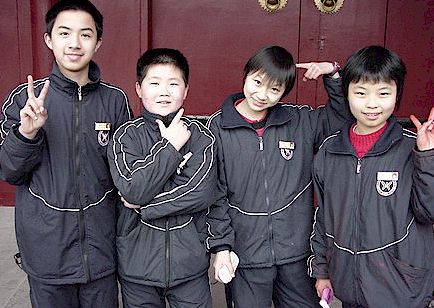 Hello and welcome to the Liuyang (Xinmin) Number One Middle School. We are seventh grade students. Our English names are (from left to right) Alan, Mike, Sally and Sophie. We'll be your hosts for the tour. CLICK HERE TO LEARN MORE ABOUT US.
Liuyang is a small city in Hunan Province about one hour away from the provincial capital, Changsha. It is famous for making fireworks and for a popular folk song about the river that flows through the city -- Liuyang He.
Today, we are going to take you on a tour around our school, which, by the way, we are very proud of. Let's go!
(Move your mouse over the image to see a photo of our school's front gate. Then click on the photo to go forward.)
Click here or on the photo to begin.
Click here to meet your tour guides (with audio).

© 2007 OneWorld Classrooms. All rights reserved.