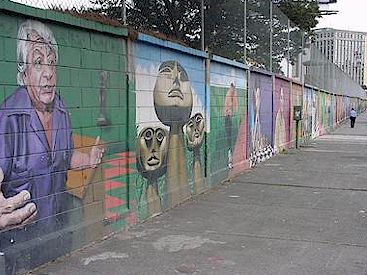 En las calles y en los edificios de Quito, se puede ver murales y grafiti. En estas fotos se puede ver parte de un mural de ecuatorianos famosos que queda en la Avenida Amazonas. La primera pintura es del artista mas famoso de Ecuador, Oswalde Guayasamin.
Move your mouse over the photo to see another one, then click to go forward.
Photographs taken by Lilia Cai and Paul Hurteau.
© 2007 OneWorld Classrooms. All rights reserved.