Number from one to ten on page one of your Travel Log and answer yes, no or sometimes to the following:

Do you consider yourself to be...

1. courageous?
2. cooperative?
3. talented?
4. creative?
5. resourceful?
6. responsible?
7. friendly?
8. well balanced?
9. considerate?
10. wise about making healthy decisions?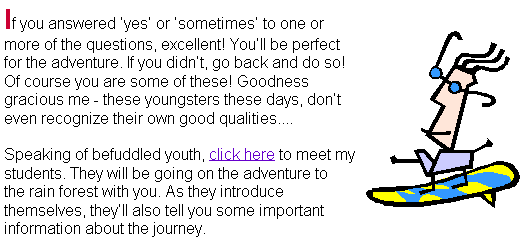 BACK TO MR. FIGINBLOSSOM
MEET MR. FIGINBLOSSOM'S STUDENTS

Have a good journey - but WATCH YOUR STEP!







[ADVENTURE GUIDE FOR TEACHERS] [CURRICULUM CONNECTIONS INDEX]
[HOME PAGE]

© 2007 OneWorld Classrooms