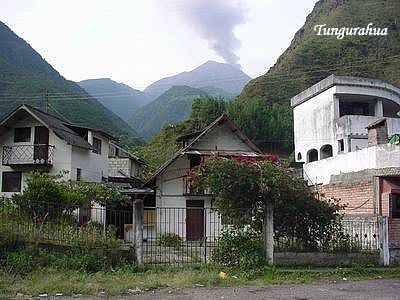 Welcome to our beautiful town, Baños de la Agua Santa, or Baños for short. It's located in the Andes Mountains of Ecuador on the edge of the Amazon Rain Forest. (Move your mouse over the photo to see another one. )
Choose a section below to start your tour.

En Baños Hay.... En Baños hay... is Spanish for 'In Baños, there are...' Click through this section to see some of the things that make Baños famous. Each page has a heading that uses the phrase En Baños hay... and features a different Spanish word.

Mountains, Rivers and Rain Forest What do the mountains of Baños have to do with the Amazon Rain Forest? Click through this section to find out.

English-Spanish Cognates Put on your sleuthing cap! In this section, you will take a walk around Baños to look for English-Spanish cognates. How many can you find? [Teachers: Click here for suggestions re. how to use this section.]
Throughout the site, you may click on this image

to proceed to the next page. Happy trails!

©2007 OneWorld Classrooms. All rights reserved.