The Amazon River Elementary School Web Site
Nivel Tres/Grade Three: Familia y Comunidad/Family and Community

!Hola amigos! Yo me llamo Rosa. Tengo nueve anos. Aqui estoy cuidando a mi sobrina. Hello friends! My name is Rosa. I am nine years old. Here, I am taking care of my niece.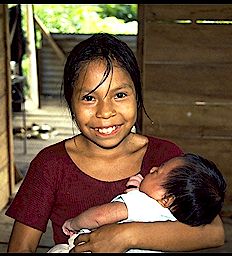 Click here to see more girls in our village taking care of their siblings, cousins and nephews and nieces ...
Click on one of my classmate's names below to learn more about family and community life:
Yersi - Mi Familia/My Family
Kiwi - Minga/Minga
Kenyo - Trabajo/Chores
Unico - Abuelos/Grandparents
Go to the Art Gallery to see our artwork.

Choose another classroom/theme below:
© 2007 OneWorld Classrooms. All rights reserved.