The Amazon River Elementary School Web Site
Nivel Uno/Grade One: Juegos/Games

!Hola amigos! Me llamo Rany. Tengo seis anos. Aqui, estamos jugando La Senora Gallina. Hello friends! My name is Rany. I am six years old. Here we are playing The Mother Hen.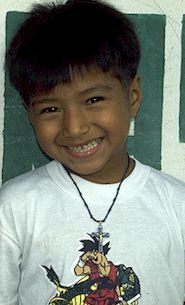 .............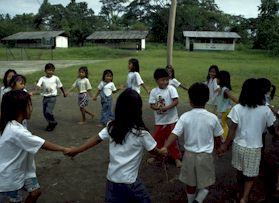 In this game, I was chosen to be 'it' and another student was chosen to be 'the mother hen.' The mother hen hid her egg (a small soft ball) in the clothes of another classmate when I wasn't looking. I then had to find it. As I searched, my classmates held hands and walked in a circle around me, singing 'The mother hen has laid an egg. Where is the egg?' They sang louder as I got closer to the person with the 'egg' until, finally, I found it!

Click on one of my classmate's names below to learn more about games we like to play:

Kike - Boliches/Marbles

Pamela - Barco/Hopscotch

Sali - Basket/Basketball

Maricela - Soga/Jumprope
Go to the Art Gallery to see our artwork.

Choose another classroom/theme below:
© 2007 OneWorld Classrooms. All rights reserved.