The Amazon River Elementary School Web Site
Nivel Dos/Grade Two: Fiestas/Festivals

!Hola amigos! Yo me llamo Orlando. Tengo seis anos. Aqui estoy subiendo palo encebado. Hello friends! My name is Orlando. I am six years old. Here I am climbing the greased pole.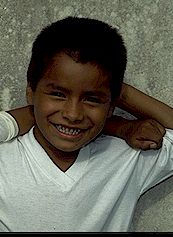 .........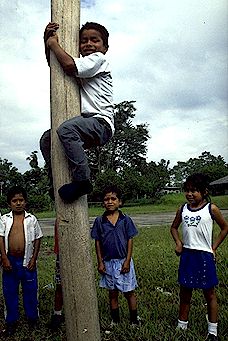 The 'greased pole' is a contest we have at certain festivals. Before the contest, men cut down a small balsa tree and peal the bark, making the trunk very slippery. In the festival, children try to climb the pole and reach the top. Everyone who tries is a winner and the whole audience has lots of fun watching. At Christmas and New Year's, we put gifts at the top of the pole and the children who reach the top can pick whichever gift they can reach. Palo encebado helps teach us climbing skills we will need to harvest fruit from rain forest trees.

Click here to see 'greased pole' climbers at the Year 2000 New Year's festival ...

Click here to see why climbing is an important skill in our culture ...

Click on one of my classmate's names below to learn more about how we celebrate festivals:

Nina - Comida/Food

Lastena - Baile/Dance

Johni - Carrera de Tortuga/Turtle Race

Lisa - Chicha/Chicha
Go to the Art Gallery to see our artwork.

Choose another classroom/theme below:
© 2007 OneWorld Classrooms. All rights reserved.