The Amazon River Elementary School Web Site
Nivel Cinco/Grade Five: Plantas/Plants

!Hola amigos! Me llamo Jeni. Tengo once anos. Utilizamos el arbol de chambira para hacer la shigra. Hello friends! My name is Jeni. I am eleven years old. We use the chambira palm tree leaf to make shigras.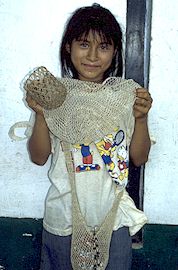 Shigras are durable carrying bags made by tying lots of knots!
Click here to see some giant leaves that give us useful fibers ...
Click on one of my classmate's names below to see more rain forest plants:
Angel - Collares/Necklaces
Irma - Artesanias de Madera/Wood Crafts
Bladimir - Achiote/Achiote
Willian - Plantas de Comida/Food Plants
Go to the Art Gallery to see our artwork.

Choose another classroom/theme below:
© 2007 OneWorld Classrooms. All rights reserved.