The Amazon River Elementary School Web Site
Nivel Seis/Grade Six: Cultura/Culture
Fishing Trip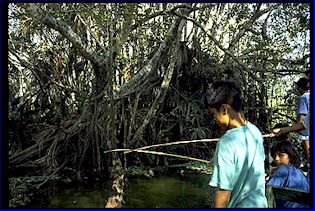 ..............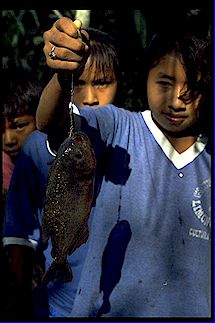 Yes, that's a big piranha (right). Bertila also caught an electric eel on the trip. We didn't take it into the canoe, though!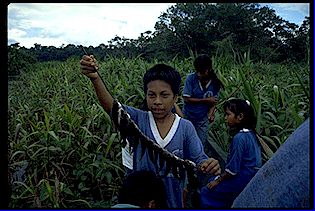 Click here to see two predators that prey on fish -- and most any other animal that steps foot in the lake!
BACK
Click on a student's name below to learn more about our culture:
Pancho - La Canoa/The Canoe
Fidel - La Cazaria/Hunting
Vanesa and Tamara - La Pesca/Fishing
Rubiela and Rosana - Kichwa/Quichua
Bertila - Chicha/Chicha
Joni - Adivinanzas/Riddles
Go to the Art Gallery to see our artwork.

Choose another classroom/theme below:
© 2007 OneWorld Classrooms. All rights reserved.