Welcome to On Wings of Waves, a photo-poetic flyover of the Galapagos Islands, featuring of the photography of OneWorld Classrooms contributor, Dennis Pippen, and the poetry of Galapagos Project Coordinator, Paul Hurteau.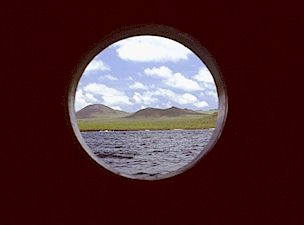 HOW TO USE THIS SITE: 1. Click on the ear
to hear the poetry. 2. Start with the pointer away from the picture to see the first photo, then move the pointer over the picture to see the second photo. 3. Click on FOOTNOTES to read information about the text or images. 4. Click on TEACHERS for curriculum connections, lesson ideas and related links. 5. Click on ENCANTADAS to read a related segment from Herman Melville's The Encantadas (Enchanted Isles). 6. Click on the picture to go forward. 7. Hide the 'Status Bar' and 'Standard Buttons Toolbar' (under 'View') for best viewing. 8. Click on the porthole to begin. Buen viaje!

© 2007 OneWorld Classrooms. Text by Paul Hurteau. Photos by Dennis Pippen, except where noted. All rights reserved.