Incredible Animals of the Galapagos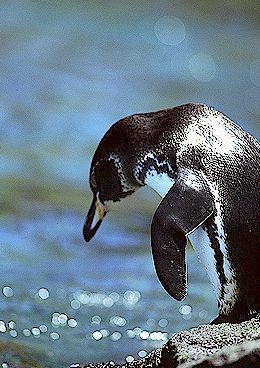 Galapagos Penguin
As you may have figured out from the poem, twenty-three degrees Celsius is a critical temperature for me. Most of my cousins live in the cold waters of Antarctica and the southern parts of Africa and South America. But, since I live near the equator, I have to look for cool ocean currents. That's why our population is so small (generally between 1500 and 3000) and we only live near a few islands in the archipelago. When the ocean temperature rises to 24 degrees Celsius and above, say after a strong El Niņo or due to global warming, many of the fish and crustaceans that I like to eat vacate the region or die. When that happens, many of us die and those that live do not normally breed during the period the water temperature is high. For these reasons, I'm considered a 'vulnerable' species.
By the way, 23 degrees Celsius is equal to 73.4 degrees Fahrenheit.
Click on the photo to go forward.


<--POEM HOME/INDEX NEXT ANIMAL-->
© 2007 OneWorld Classrooms. Text by Paul Hurteau. Photos by Dennis Pippen, Lilia Cai and Miguel Mosquero. All rights reserved.