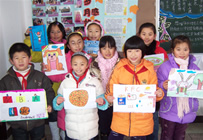 Module Profile
Language: Chinese
Theme: Favorite Things
Grammar Element: 'I like/I like to...'
Level: Beginner/Intermediate
Contributing Class: Grade 4, Qingzhuhu Foreign Language School, Changsha, Hunan Province, China.
Contributing Teacher: Fu Chi Jing
See Module Links in Left Column
Teachers:

Go to the Teacher Page for lesson ideas and tips on how to use the lab effectively in your classroom.
Explore and Contribute
The Student to Student Language Lab is an Explore and Contribute resource. We welcome you to use the lab in your classroom and we invite your class to contribute content. If you would like to contribute content, please send an E-mail to lab@oneworldclassrooms.org. We will send you a module and guidelines.
Contribution Guidelines

Review our contribution guidelines here.
New York State Learning Standards for Languages Other Than English