The Chinese Calligraphy Room (Middle and High School)

Zhang Fu Jun's Page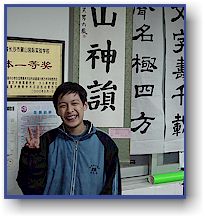 Hello everybody. My name is Zhang Fu Jun. I'm 13 years old. I'm from Changjun Boarding Middle School. I'm in Eighth Class, Grade Seven.
The calligraphy on the far left is the second part of a famous Chinese saying. (Go to Mi Min Qin's page to read part one.) Use the audio links below the calligraphy to hear me say it in Chinese and English.
Chinese: Sheng ming ji si fang.
English: Their influence spreads everywhere.
<< -- Previous Student's Page | Next Student's Page -->>






Elementary Calligraphy Room | Middle/High School Calligraphy Room
© 2007 OneWorld Classrooms. All rights reserved.