Mi Min Qin's Page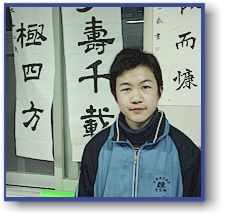 Hello everybody. My name is Mi Min Qin. I'm 13 years old. I'm from Changjun Boarding Middle School. Now, I'm in Eighth Class, Grade Seven.
The calligraphy on the left is the first part of a famous Chinese saying. (Go to Zhang Fu Jun's page to read part two.) It consists of five characters, read from top to bottom. Use the audio links below the calligraphy to hear me say it in Chinese and English.
Chinese: Wen zi shou qian zai.
English: Languages last thousands of years.
Click here to see me write a Chinese character stroke-by-stroke in standard or standing style calligraphy.
<< -- Previous Student's Page | Next Student's Page -->>






Elementary Calligraphy Room | Middle/High School Calligraphy Room