Pan Ye Ni's Page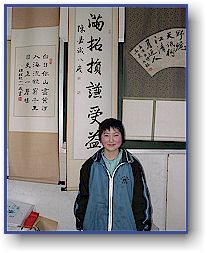 Hello everyone. My name is Pan Ye Ni. My English name is Olive. I'm from Changjun Boarding Middle School, Class Nine, Senior One (Grade Ten). I like calligraphy very much.
The calligraphy on the left, read from top to bottom, is a famous Chinese saying. Use the audio links below the calligraphy to hear me say it in Chinese and English.
Chinese: Man zhao sun, qian shou yi.
English: If you are too proud, you will go back; if you are humble, you will go forward.

Click here to see me writing calligraphy.
Next Student's Page -->








Elementary Calligraphy Room | Middle/High School Calligraphy Room