The Arctic Classroom Package: Inuktitut Primer
Nowadays, Inuktitut, the language of the Inuit people, is written in roman letters AND in syllabics. But it was first written in syllabics, so that's how Inuit children learn it. Below is a chart of Inuktitut syllabics. Each symbol stands for a syllable, not just a letter sound. After having a look at the chart, scroll down to try to form some Arctic animal names using syllabics. To hear Inuit children pronouncing these animal names in Inuktitut, go to Awesome Arctic Animals.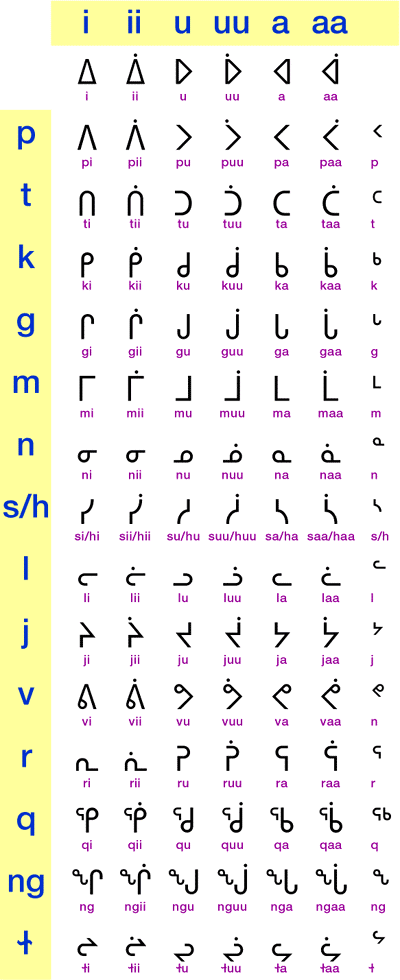 Now try to write these Inuktitut animal names using syllabics:
polar bear -- nanuq
caribou -- tuktu
muskox -- umingmak
lemming -- avingak
Arctic ground squirrel -- siksik
walrus -- aivik
Arctic hare -- ukaliarjuk
snowy owl -- ukpik
raven -- tulugak
Arctic fox -- tiriganiaq
For more Inuktitut animal names and to hear Inuktitut children pronouncing them, go to Awesome Arctic Animals.
And, if you'd like to try your tongue with the language of the Inuit even more, we recommend that you visit the following Web sites. As you are discovering Inuktitut, keep in mind that spelling and pronunciation varies from region to region. Taima!
Greetings in Inuktitut - http://www.ainc-inac.gc.ca/ks/5020_e.html
Write in Inuit -- http://www.halfmoon.org/inuit.html
Glossary of Inuit Words - http://collections.ic.gc.ca/arctic/glossary/innuglos.htm
31 Words About Snow - http://www.elements.nb.ca/kids/snow/snoword.htm
Download Inuktitut Font - http://www.nunatsiaq.com/download.html
Inuktitut Dictionary - http://www.livingdictionary.com/ - The dictionary is for more advanced Inuktitut speakers.
© 2007 OneWorld Classrooms. All rights reserved.