Awesome Arctic Animals

Answer: Arctic Char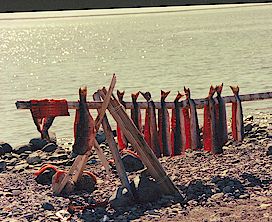 NEXT -->



<--BACK

INDEX


Iqaluk means Arctic char in Inuktitut.

Every fall, hundreds of thousands of Arctic char, donning their bright red-orange breeding colors, leave their coastal feeding grounds and swim up Arctic rivers to spawn. In the spring when the ice breaks, they swim back downstream to the sea. On both occasions, local folks have a fishing derby. The traditional way to fish char is to corral them through the narrowest, rapid flowing sections of the river into large circular rock-traps where they can easily be snagged with a three-pronged spear. The char are then dried so they can serve as a food source during the winter. Nowadays, though, many people fish for char with fishing rods, and commercial fisheries catch them in large numbers using gill nets.
Photo Credit: © Photo Credit: © Nunavut Territory, Canada CD, Central Arctic Services, Ltd. Used with permission. For information about ordering the CD and for lots more Arctic resources, visit www.huskydog.com . All rights reserved.
© 2007 OneWorld Classrooms. All rights reserved.