Awesome Arctic Animals

Answer: Arctic Grayling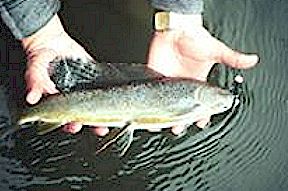 NEXT -->



<--BACK

INDEX


Sulukpaugaq means Arctic grayling in Inuktitut.

Arctic graylings are one of the most strikingly beautiful of all Arctic animals: the only problem is you have to catch one to see how beautiful it is. They have a wing-like dorsal fin that is speckled with red or purple spots, a purplish blue-black back, a side of iridescent silver and pectoral fins with streaks of red or orange. Jewels of the Arctic's clear fresh water, they are especially prized by fly fishermen since they mainly feed on insects, often leap into the air when caught and, despite their relatively small size, put up a feisty fight.
Photo Credit: © Nunavut Territory, Canada CD, Central Arctic Services, Ltd. Used with permission. For information
about ordering the CD and for lots more Arctic resources, visit www.huskydog.com . All rights reserved.
© 2007 OneWorld Classrooms. All rights reserved.