Awesome Arctic Animals

Answer: Narwhal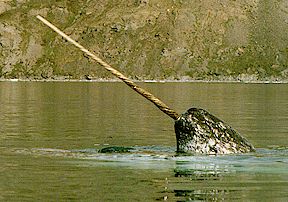 NEXT -->



<--BACK

INDEX


Qilaluga Tuugaalik means narwhal in Inuktitut.

If it weren't for its tusk, the 'unicorn of the sea,' or the narwhal, would be toothless. Needless to say, it doesn't do a lot of chewing. But, hey, who needs to chew when your diet consists of the slippery and slimy creatures of the deep: fish, squid, octopuses and mollusks? The male narwhal uses its only tooth to spar with other males when competing for females. So, older male narwhals end up tattooed with scars.
Photo Credit: © Photo Credit: © Nunavut Territory, Canada CD, Central Arctic Services, Ltd. Used with permission. All rights reserved. For information about ordering the CD and for lots more Arctic resources, visit www.huskydog.com All rights reserved.
© 2007 OneWorld Classrooms. All rights reserved.