Dear Students:

Greetings from NY -- and welcome to the Africa School Project! My name is Paul Hurteau and I am one of the project coordinators. Lilia Cai, from Shanghai, China, is the other. Lilia is already in Windhoek, Namibia, in southwestern Africa -- and I'll be joining her there on Sunday after a long trip that starts tomorrow.

Over the course of the next five weeks, Lilia and I will be visiting schools in four different regions of Namibia, exploring both the Namib and Kalahari deserts and going on an animal safari in Namibia's famous Etosha National Park. As we travel, your class will be sharing the adventure, interacting with Namibian students and taking online adventures that will introduce you to African children, cultures,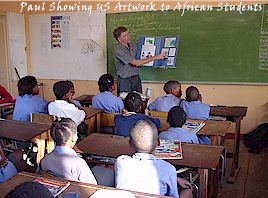 languages and animals.

Africa is a fascinating continent. First of all, according to scientists, it's where we all came from -- since the oldest bones of humans and pre-human hominids have been discovered there, most recently in Chad, where archeologists have unearthed a seven million year old humanoid skull. Then there's Africa's great size: You could fit the continental US in Africa three times and, including its islands, Africa has as many countries as the US has states. Then there's its great diversity of cultures -- over a thousand distinct peoples, each with their own traditions and language. Then there's Africa's incredible geographical diversity: Though it's surrounded by oceans and seas, it has its very own set of Great Lakes and several huge river systems, including the world's longest river, the Nile. It is also home to vast deserts, including the world's largest, the Sahara; and it has snow-capped mountain peaks, deep rain forests and wide savannas. And then, of course, there's its world-famous wildlife -- from elephants to elands and from gerenuks to giraffes.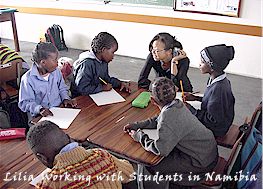 We'll be traveling in Namibia, but some of the online resources focus on Kenya, a country in East Africa at the base of the Horn of Africa, bordering the Indian Ocean and Africa's largest lake, Lake Victoria. You can find Kenya easily because the equator goes right through it. (I formerly lived and taught in Kenya for two and a half years.) Kenya and Namibia are both amazing places. Though they have some similarities, they also have some striking differences. The online resources will allow you to compare and contrast these two African countries.



===============================================================================

TRAVELING TO AFRICA

To get to Windhoek, Lilia traveled from Quito, Ecuador (where we just finished our Amazon project) to Amsterdam, Holland, to Johannesburg, South Africa and finally to Windhoek. On the other hand, I will travel from New York City to Munich, Germany; to Madrid, Spain; to Johannesburg, South Africa; to Windhoek. In both cases, we'll have traveled for more than two full days. Can you trace our flights? How would you get to Windhoek from where you live? Can you estimate how long the trip would take? How many hours difference is there between the time in Windhoek and the time in your city or town?

This is the fifth year we will be conducting the Africa School Project. Four years ago, I traveled to Windhoek from Zurich, Switzerland, so the flight went almost right over middle of Africa from north to south, a good perspective from which to consider Africa's most famous geographical features. Here's what I wrote then.

===========================

FLASHBACK -- AFRICA FLYOVER

Now I'm writing from 33,000 feet (10,058 meters) above sea level. The temperature up here is minus 39 degrees Fahrenheit (minus 38 Celsius) and I'm traveling 560 miles per hour (901 kilometers per hour). The local time is 5:32 PM, but my computer clock, set to Eastern US time, says 10:32 AM. In case you haven't figured it out, I'm flying over the continent of Africa as I write this. Right now we are flying directly over equator. The equator runs east-west and sort of splits Africa in half, north and south (though the north side is larger). The path of my flight from Zurich goes mostly north-south and also splits Africa in half, east and west. Just for fun, I'll trace the flight so you can fly along and get an overview of the African continent. Why not see if you can locate the places and things I mention as we fly over?

Leaving Zurich and heading mostly south but a little east, my plane first flew over the Swiss Alps, then over Rome, Italy, the Mediterranean Sea and the islands of Sicily and Malta. At Tripoli, Libya, we started to fly over the African continent and have been over land ever since. Looking east on the map from Libya, you'll find the country of Egypt, famous for the great pyramids and home to two large cities, Alexandria and Cairo, both of which are located along the world's longest river, the Nile. If you follow the Nile south from where it empties into the Mediterranean Sea all the way to the equator, you'll find its source, Africa's largest lake, Lake Victoria, which is just a little smaller than North America's largest lake, Lake Superior.

The Nile River sort of parallels my airplane's flight path, only a thousand miles to the east. After flying over northern Libya, we flew directly over the Sahara, the world's largest desert, which stretches from the western coast of northern Africa all the way to the Nile. Then, we flew over Chad, past Lake Chad to the west and over the Central African Republic. To the west of Chad and CAR are Nigeria and Cameroon. Nigeria is Africa's most populous country with over 100 million residents and its most diverse, with over 100 different languages. Several branches of the Niger River converge in Nigeria, then dump their waters into the Atlantic Ocean. Cameroon is much smaller but is well known for being a football, or soccer, powerhouse, regularly qualifying for the World Cup in recent years.

Crossing the equator, our flight passes over the Democratic Republic of Congo, which recently suffered a terrible natural disaster when a volcano erupted and killed many people in the city of Goma. You might have heard it on the news. The DRC is the source of much of the water that flows through Africa's largest river system, that of the Congo. The Congo River, though not as long as the Nile, carries far more water than the Nile and, like the Niger, empties its water into the Atlantic Ocean. (Can you see which large river empties into the other side of the Atlantic in South America? Hint: It's the world's largest river system.)

Along the equator to the east of our flight path, you'll find Rwanda, then Uganda, then Kenya. Kenya borders the Indian Ocean to the east. In Kenya, you'll see Africa's second highest peak, Mount Kenya. It's so high, even though it's located right on the equator, it has snow on top all year round. Africa's tallest mountain at 5,895 meters, Mount Kilimanjaro, is just south of Kenya in Tanzania. North and northeast of Kenya are Ethiopia and Somalia in what's known as the horn of Africa. If you turn the map on it's side, doesn't the continent of Africa resemble an animal's head with a horn? Lake Victoria, which also partially borders Kenya, would be the animal's eye. I used to live on the northern shores of Lake Victoria in Kenya. Lake Victoria is just one of Africa's 'Great Lakes.' Can you find the others, also in the east?

Traveling now in the southern hemisphere, south of the equator, our flight passes over Zambia, Zimbabwe and the Zambezi River, which features the world famous Victoria Falls, Africa's largest set of waterfalls. Next, our plane flies over Namibia's neighbor, Botswana, and the pseudo-desert Namibia shares with Botswana, the Kalahari, and, finally, over the northern part of South Africa before it lands in Johannesburg. Pretoria, just north of Johannesburg, is the capital of South Africa. Looking far to the southwest on the map, you can see one of South Africa's other major cities, Cape Town, on the Cape of Good Hope, where the Atlantic and Indian Oceans meet. So, there you have it -- an Africa flyover, from Cairo to the Cape of Good Hope!

============================

Now that you've had an overview of the continent, we'll zoom in on the capital of Namibia, Windhoek -- in our next report.
Till then, learn lots,
Paul Hurteau and Lilia Cai
Africa School Project Coordinators

==============================================

TEACHERS: Visit the Where to Begin pages of The Africa Classroom Package -- www.oneworldclassrooms.org/travel/africa/classroompackage/begin.html -- for related map and globe activities, activities exploring cultural similarities and differences and math activities related to packing ones bags for the trip. Go to the Africa School Project's Classroom Travel Resources for more online explorations.

<><><><><><><><><><><><><><><><><><><><><><><>><><><><><><><><><>