MOKALENG SCHOOL FIELD TRIP: SCHOOL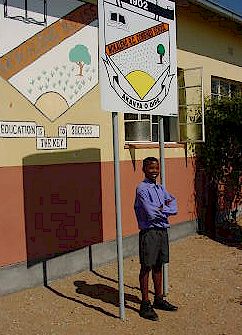 Here's our school badge -- and the Namibian flag. As you can see, we've been around since 1902. Our motto is 'Education is the key to success.' We believe that education is one of the most important things in life.
Move the arrow over the photo to see
another one; then click it to continue.
TOUR STAFF HISTORY MAPS SCHEDULE
SCHOOL SCHOOL ACTIVITIES

KALAHARI DESERT CULTURE
NOTE: The site's text and background colors represent the
different colors of the Kalahari Desert sands.
CHOOSE A LINK BELOW TO HEAR A MULTI-LINGUAL
WELCOME OR TO SEE OUR ARTWORK
© 2007 OneWorld Classrooms. All rights reserved.