MOKALENG SCHOOL FIELD TRIP: CULTURE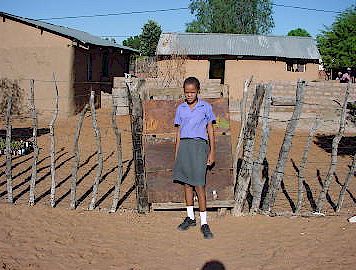 First, let's pay a visit to my house. It is surrounded by a wooden and wire fence. The house walls are made of wood, sand, cow dung and cement. The roof is made of tin. Here are my grandmother and my uncle.
Move the arrow over the photo to see
another one; then click it to continue.

SCHOOL SCHOOL ACTIVITIES

KALAHARI DESERT CULTURE

NOTE: The site's text and background colors represent the
different colors of the Kalahari Desert sands.


CHOOSE A LINK BELOW TO HEAR A MULTI-LINGUAL
WELCOME OR TO SEE OUR ARTWORK
© 2007 OneWorld Classrooms. All rights reserved.