The Africa Classroom Package: Lessons and Activities
MAP #2
This political map of Africa also shows the major lines of latitude. How many countries can your class name?

Geography/Social Studies Activity
On large paper, have students draw a map of Africa. Have them label 10 countries, 5 cities that have at least one million people living in them, 5 rivers, 2 deserts, 2 oceans, the equator, 1 large lake, 1 mountain and Victoria Falls. Have them color all the rain forests green, the deserts brown, the lake blue and the savanna yellow. Have them create a legend using symbols to represent 10 animals, then have them research where the animals live and put the symbols in the correct places. Next to the symbols, have them add a C if the animal is carnivorous, a H if the animal is herbivorous or a O if the animal is omnivorous. Have students make a chart or graph comparing Victoria Falls to Niagara Falls, New York, showing the following: the name natives gave each; the first nonnative to see or write about it; the river it is located on; how each is used or why it is important; any other information.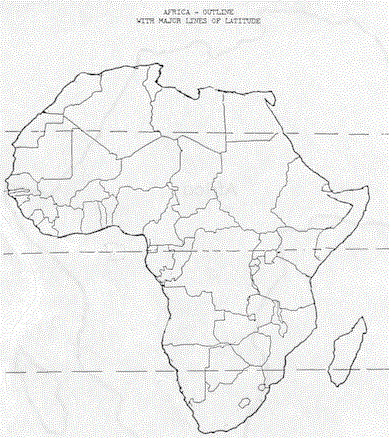 Back to Related Activities and Lessons

© 2007 OneWorld Classrooms. All rights reserved.